Legal Action is fully funded and supported by LAW; using creative legal strategies to increase access to justice for women and girls, and those who have been subjected to sexual and gender-based violence. These strategies are implemented through a combination of legal aid and empowerment, strategic litigation and targeted legal advocacy. In 2019 Legal Action opened an office in Beirut and is now providing legal assistance and representation from Beirut and four field offices in Alay, Burj Hammoud, Tripoli and Akkar.
Legal Action's legal aid lawyers work closely with international lawyers in LAW's network to develop innovative legal strategies designed to increase access to justice for survivors of sexual violence, people who are stateless, and others who have suffered egregious human rights violations and abuses.
Legal Action Lebanon: Responding to the Beirut explosion
On 4 August 2020 a massive explosion ripped through Beirut, Lebanon. The root causes of the blast and who is ultimately responsible remain unclear, however the devastation speaks for itself. The blast killed over 200 people, left 300,000 homeless and 7,000 more injured . It destroyed thousands of buildings and incinerated the city's grain store.
LAW and Legal Action Lebanon are providing support to survivors' group Victims of the Beirut August Massacre. The group of  over 1000 victims and families of victims have called upon the international community to support their pursuit of justice, requesting an independent and impartial investigation and prosecution to hold accountable those responsible and order damages to the victims.
Report on behalf of victims of the beirut explosion
On 13 November, LAW released the first comprehensive report gathering all available facts relating to the 4 August Beirut explosion and the domestic investigation thus far. The report has been submitted to key individuals at the UN, and to representatives of key member states.
Read the full report in English here
Read the Executive Summary in Arabic here
Along with key facts, the report sets out the five key requests of the victims group Victims of the Beirut August Massacre,  as follows:
To dispatch, without delay, an independent and impartial fact-finding mission, leveraging global expertise, to establish the facts and circumstances, including the root causes of, the 4 August 2020 Beirut explosion with a view to establishing state and individual responsibility and supporting justice for victims.
That the Government of Lebanon do not destroy or render inaccessible any evidence related to the 4 August 2020 Beirut explosion, and issue clear, public and unequivocal instructions to all government authorities and security forces that all evidence must secured and preserved. Any investigation will be required to consider the destruction of evidence.
That victims are ensured representation and participation in any proceedings arising from investigations, including civil or criminal proceedings before a competent court or tribunal, or any public inquiry;
That member states, specifically: the United States of America and France or other members states who have conducted investigations into the 4 August 2020 Beirut port explosion, should report publicly on all evidence gathered by their state agents. As a minimum key findings should be released to victims as defined under the Basic Principles and Guidelines on the Right to a Remedy and Reparation for Victims of Gross Violations of International Human Rights Law and Serious Violations of International Humanitarian Law, and their families;
That the Government of Lebanon should acknowledge and provide a full, public apology to victims and seek their views on the establishment of a memorial. It should also urgently adopt a comprehensive policy and package of measures regarding the fulfilment of the right to reparation of victims.
Read the Press Release in English here
You can find out more about the group on their website here, where you can sign the petition and join their call join their call for an independent and impartial investigation and trial that will reveal the truth and do justice to the victims.
In addition, Legal Action Lebanon, based in Gemayze, Beirut, establishing an emergency project in response to the dire needs of the community. From tents set up outside the office, the team provide legal information and assistance to people who have suffered and continue to suffer from the blast.
Background
Gender inequality in Lebanon is particularly stark. According to 2017 the Gender Gap Index, Lebanon ranks fifth to last in the Middle East and North Africa region (ranked at 137), behind only Saudi Arabia, Iran, Syria and Yemen. Since 2010, Lebanon has seen a consistent decline in its global index rank. LAW's work on Lebanon is focused on legal aid and empowerment of women, including Lebanese women, women from the Syrian and Palestinian refugee communities, and female domestic workers.
Sexual and gender-based violence is prevalent in Lebanon. Members of the refugee population and domestic workers are particularly at risk. Accessing the Lebanese court system can be difficult for many survivors of sexual and gender-based violence, but refugees and domestic workers face numerous additional obstacles in the pursuit of justice. Many are unaware of their rights or options for redress. The legal system can be daunting and expensive. Legal Action will help survivors of sexual and gender-based violence to overcome these obstacles by providing pro bono legal services, as well as by working to change unfair laws and practices through legal advocacy and strategic litigation.
4
Number of steps in the process to register the birth of a Syrian Refugee
17%
Percentage of households (2017) who correctly followed all four steps of the process and successfully registered their child.
55%
Percentage of Syrian Refugee households (2017) where no family member had legal status in Lebanon
Dealing With The Past Live Photo Exhibition and Documentary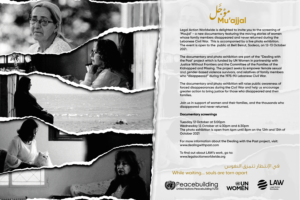 The "Dealing with the Past" project, funded by UN
Women, focuses on women victims and survivors of the
Lebanese civil war to the present. The project provides
legal aid, psychosocial support and avenues for
storytelling to enable survivors and relatives of the
disappeared to describe their experiences and address
their legal and psychosocial needs.
Within this project, legal information sessions were
organised for women victims and survivors of the
Lebanese civil war, legal assistance and counselling
were provided, and some women were represented
before the courts. In addition, the project focused on
legal research; Legal Action issued a report on gender
crimes committed during the civil war and an
assessment of the legal, psychological and medical
needs of women from the families of the disappeared.
In addition, Legal Action encouraged women to share
their stories through artistic means (photography and a
video documentary), and a number of women were
referred to receive psychosocial support. This project is
in partnership with the Committee of the Families of the
Kidnapped and Disappeared in Lebanon and Justice
without Frontiers.
LAW's First Strategic Litigation Case for an Ethiopian MDW
The Lebanon team had the first court hearing for the criminal case of M.H, 38-year-old, former migrant domestic worker in Lebanon who was exposed to slavery, slave trading, forced labor, mental and physical abuse as well as racial, and gender discrimination.
The hearing took place but was adjourned since the defendants did not show up and another hearing was set to take place in February 2022.
Click the link above for the full media statement.