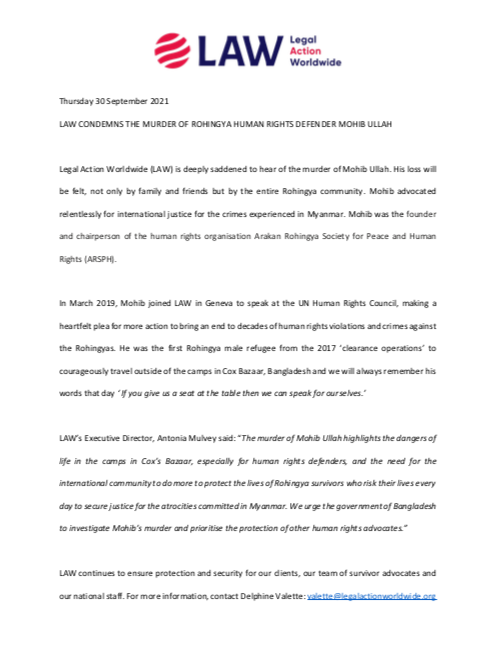 Download PDF
Legal Action Worldwide (LAW) is deeply saddened to hear of the murder of Mohib Ullah. His loss will be felt, not only by family and friends but by the entire Rohingya community. Mohib advocated relentlessly for international justice for the crimes experienced in Myanmar. Mohib was the founder and chairperson of the human rights organisation Arakan Rohingya Society for Peace and Human Rights (ARSPH).
In March 2019, Mohib joined LAW in Geneva to speak at the UN Human Rights Council, making a heartfelt plea for more action to bring an end to decades of human rights violations and crimes against the Rohingyas. He was the first Rohingya male refugee from the 2017 'clearance operations' to courageously travel outside of the camps in Cox Bazaar, Bangladesh, and we will always remember his words that day ' If you give us a seat at the table then we can speak for ourselves.'
LAW's Executive Director, Antonia Mulvey said: "The murder of Mohib Ullah highlights the dangers of life in the camps in Cox's Bazaar, especially for human rights defenders, and the need for the international community to do more to protect the lives of Rohingya survivors who risk their lives every day to secure justice for the atrocities committed in Myanmar. We urge the government of Bangladesh to investigate Mohib's murder and prioritise the protection of other human rights advocates."
LAW continues to ensure protection and security for our clients, our team of survivor advocates and our national staff.
For more information, contact Delphine Valette: valette@legalactionworldwide.or