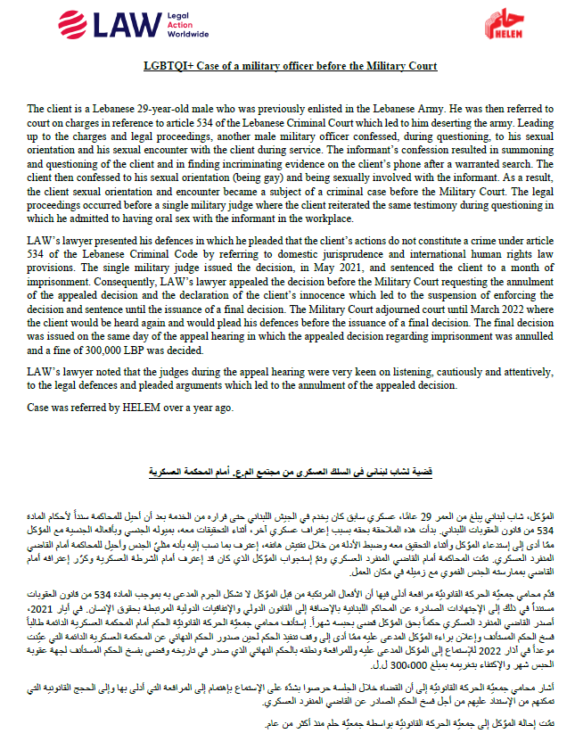 Download PDF
The client is a Lebanese 29-year-old male who was previously enlisted in the Lebanese Army. He was then referred to court on charges in reference to article 534 of the Lebanese Criminal Court which led to him deserting the army. Leading up to the charges and legal proceedings, another male military officer confessed, during questioning, to his sexual orientation and his sexual encounter with the client during service. The informant's confession resulted in summoning and questioning of the client and in finding incriminating evidence on the client's phone after a warranted search. The client then confessed to his sexual orientation (being gay) and being sexually involved with the informant. As a result, the client's sexual orientation and encounter became a subject of a criminal case before the Military Court. The legal proceedings occurred before a single military judge where the client reiterated the same testimony during questioning in which he admitted to having oral sex with the informant in the workplace.
LAW's lawyer presented his defences in which he pleaded that the client's actions do not constitute a crime under article 534 of the Lebanese Criminal Code by referring to domestic jurisprudence and international human rights law provisions. The single military judge issued the decision, in May 2021, and sentenced the client to a month of imprisonment. Consequently, LAW's lawyer appealed the decision before the Military Court requesting the annulment of the appealed decision and the declaration of the client's innocence which led to the suspension of enforcing the decision and sentence until the issuance of a final decision. The Military Court adjourned court until March 2022 where the client would be heard again and would plead his defences before the issuance of a final decision. The final decision was issued on the same day of the appeal hearing in which the appealed decision regarding imprisonment was annulled and a fine of 300,000 LBP was decided.
LAW's lawyer noted that the judges during the appeal hearing were very keen on listening, cautiously and attentively, to the legal defences and pleaded arguments which led to the annulment of the appealed decision.
Case was referred by HELEM over a year ago.