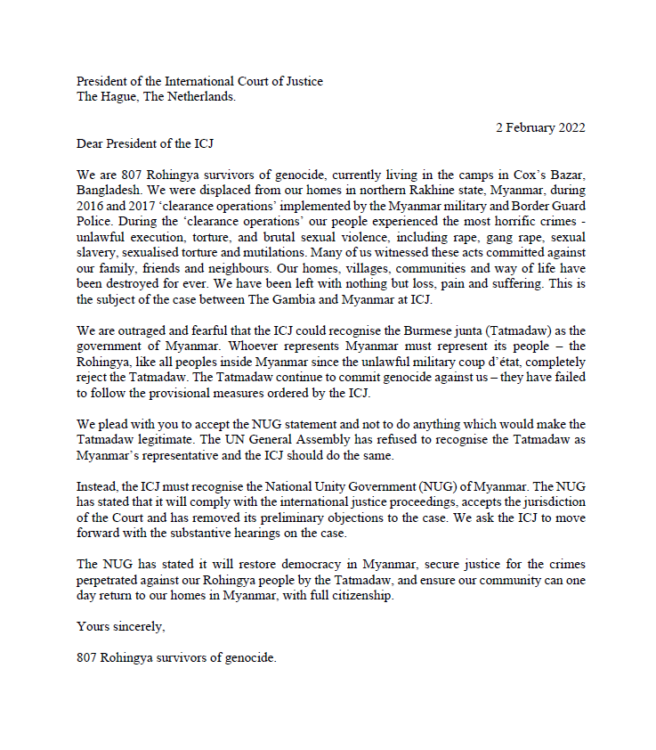 Download PDF
On Wednesday 2 February 2022, 807 Rohingya based in the camps in Cox's Bazar, Bangladesh, submitted a letter to the President of the International Court of Justice [link to letter here] expressing fear and outrage that the Tatmadaw (Myanmar military) junta, may be recognised as the legitimate representative of Myanmar in proceedings before the Court. They urge the ICJ to reconsider any act which could give legitimacy to the junta, which attempted to seize power in an unlawful coup d'état in February 2021.
LAW, alongside Fortify Rights and the Myanmar Accountability Project, also submitted a letter [link to letter here] explaining that any recognition of the junta by the ICJ would be "inconsistent with the approach taken by other UN institutions," and would call into question the role of the ICJ as the principal judicial organ of the UN. On 6 December 2021 the UNGA formally decided to defer its decision on Myanmar's credentials, (adopting the report of its Credentials Committee) leaving in place U Kyaw Moe Tun (aligned to the National Unity Government of Myanmar), as the incumbent permanent representative for Myanmar to the United Nations.
On 19 January 2022, the ICJ announced hearings on preliminary objections in the case between The Gambia and Myanmar on the Application of the Convention on the Prevention and Punishment of the Crime of Genocide, would take place in February 2022. The National Unity Government (NUG) of Myanmar, which opposes the Tatmadaw junta, has sought to withdraw the preliminary objections – making the proposed hearings redundant. In a statement on 1 February 2022, the NUG said the ICJ risked setting a "dangerous precedent."
In the letter the 807 Rohingya indicate their clear support for the NUG over the military junta and call on the ICJ to move forward with substantive hearings on the case.
You can read more about LAW's work on the Rohingya Crisis here.