Sexual Violence Against Children
The conflicts of the twenty-first century have been remarkable in their intensity, characterized by a deterioration in respect for international human rights law, international humanitarian law, and international criminal law. This deterioration in respect for humanitarian standards has disproportionately impacted children, from birth through adolescence. While the impact of conflict on children and young people has been understood for some time, it is perhaps only recently that the scale of the problem has come into focus. International responses to armed conflict must now deal with the reality that children are ten times more likely to become victims of conflict-related sexual violence than they were thirty years ago.
LAW is taking the lead to strengthen the international response to all survivors of sexual violence through targeted and impactful legal support responding to survivors' stated needs and priorities. LAW's inclusive approach will deliver high quality services to some of the most marginalised victims of sexual violence, by focusing on children, and particularly boys and LGBTQI+.
Objectives
Combatting impunity for sexual violence, no matter who the victim is, where it occurred, or when. Child victims are too often forced to suffer in silence for lack of awareness of child sexual abuse and appropriate holistic care services and safe spaces.
Empowering marginalized victims and survivors to identify and articulate their rights and their justice needs through legal information and assistance.
Reducing impunity and increasing accountability by representing individuals/communities before national, regional and international tribunals/courts, UN mechanisms and filing strategic litigation cases.
Supporting victims to advocate for victim-centred truth seeking and justice and assisting them to select the appropriate mechanisms.
Setting the standard for creative, inclusive and responsive justice approaches in addressing sexual violence against the most vulnerable in fragile and conflict-affected contexts.
Advocacy and justice 'asks' for children, boys and LGBTQI youth
Putting an end to structural violence that devalues and degrades children and LGBTQI youth, including by ending formal discrimination that finds expression in the criminalisation of homosexuality and other anti-LBGTQI laws;
Ending sexual violence by state actors who are supposed to prevent violence and protect victims, including police and other security forces, by identifying and punishing perpetrators; and
Addressing societal and cultural stigma that makes it difficult, or even life-threatening, for children and LGBTQI youth to report sexual violence.
Support provided by LAW to survivors (including therapeutic)
Legal information, assistance, and representation to meet legal needs.
Humanitarian, medical and psycho-social (PSS) needs of survivors are considered and addressed, either through referral pathways or, in the case of children, through an integrated approach that prioritises the wellbeing of the child.
The project was possible thanks to the support of Oak Foundation.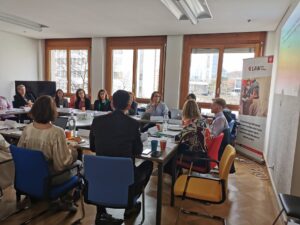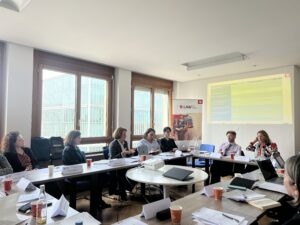 Roundtable on the "Effective Investigations of Sexual Violence Against Children and Support for Child Victims"
On 7 March 2023, LAW convened for a roundtable on "Effective Investigations of Sexual Violence Against Children and Support for Child Victims", in Geneva, Switzerland. A group of leading experts in children's rights, sexual violence and abuse against children, and accountability for crimes and violations affecting children in conflict attended the roundtable.  The experts discussed the tools and resources that have been developed to enable dedicated investigations into sexual violence against children and identified areas for strengthening the justice and accountability framework for child victims and survivors. The experts discussed the challenges, success and failures that have been encountered in ensuring that child victims of sexual violence have a voice in the justice process, and to what extent men, boys and LGBTQI+ victims have been supported to obtain their justice goals. The experts also identified new opportunities for improving the tools and resources available to investigators and child rights defenders.
Feedback
"Excellent roundtable. Very powerful participants!"
"Fantastic discussion on how we can improve the access to justice for children".
"Perfect organization; very important and interesting discussion on how to bring justice to child victims of sexual violence"
The roundtable was possible to the support of Oak Foundation.