Our Team
LAW has 70 full time employees across its 7 teams.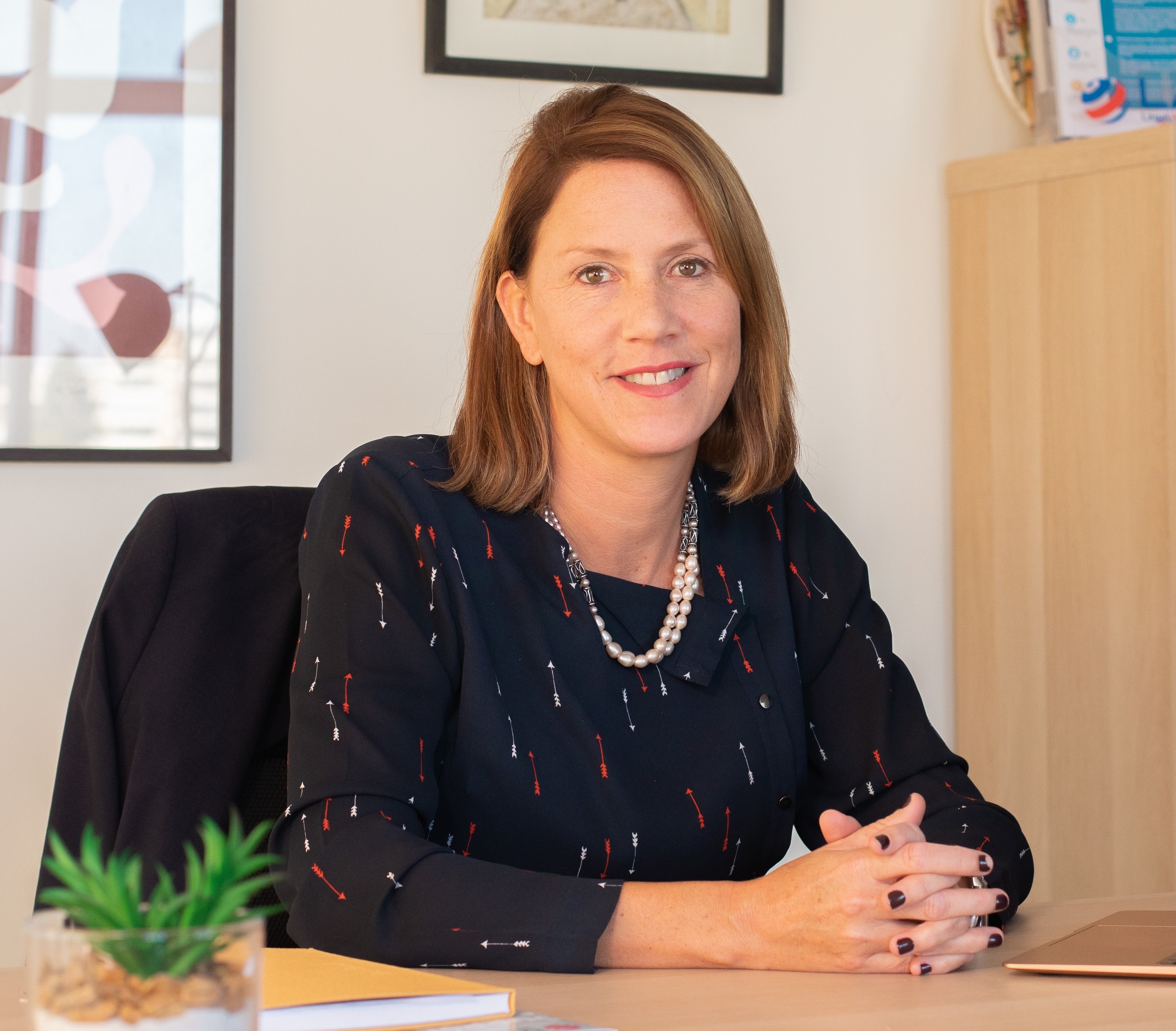 Founder & Executive Director
Antonia Mulvey
Antonia Mulvey is the Founder and Executive Director of Legal Action Worldwide (LAW). She is a British lawyer with 20 years of experience in international, human rights, refugee and criminal law. Antonia has established and headed rule of law and access to justice programmes for the UN and INGOs in Sudan, Somalia and the occupied Palestinian territory. She has also worked for UNHCR in Washington DC. Prior to her international work, Antonia practiced criminal and refugee law at one of the UK's top human rights law firms. Her experience ranges from advising governments on judicial and legislative reform, to founding the first Women Lawyers Association in Somalia, establishing the first law faculty in Puntland, Somalia, and establishing the first paralegal programmes in Darfur, Sudan. The legal programme that she established in the occupied Palestinian territory stopped the forcible displacement of more than 20,000 Palestinians from their homes.
Mulvey is a Visiting Fellow at the Centre for Women, Peace and Security at the London School of Economics and has been a Visiting Scholar at Columbia University Law School, New York. She is completing her PhD in international law at SOAS, University of London and is an Expert Panelist for the International Conflict Masters programme at the University of Leicester, UK. Antonia is a SGBV expert for UN Women, the Justice Rapid Response Unit and the UK Foreign and Commonwealth Office Preventing Sexual Violence Initiative. In 2017, she was appointed as SGBV investigator for the UN International Independent Fact-Finding Mission on Myanmar. In 2019, Antonia became a board member of GAPS (Gender Action for Peace and Security), the UK's women, peace and security civil society network. She is also a member of the Steering Committee for the Lebanese Ministry of State for Economic Empowerment of Woman and Youth. Antonia is married with four children. Her twitter is @AntoniaMulvey.
LAW's UK, Dutch Board and Swiss Committee

Simon Black

Having spent 20 years as a Partner at Allen & Overy based in Asia, Simon converted from Big Law to New Law and founded Lexical Labs, which utilizes technology to negotiate contracts. He loved negotiating deals but was frustrated by inefficiencies and wasted time and efforts. Simon is passionate about changing this. He aims to let machines handle the heavy lifting of repetitive tasks, thus liberating individuals to generate ideas, make informed judgments, and inspire others. His dedication also extends to aiding victims of conflict and violence who seek legal remedies and other forms of support during their recovery from war crimes and other trauma. with me a short bio that we can post on our website.

LAW's UK, Dutch Board and Swiss Committee

Myrna Nakad

is a Founding Partner at Spark for Growth, a niche consultancy dedicated to driving transformative change. With over 30 years of experience, she specializes in organizational culture, team interactions, and leadership development and works across industries and geographies Her previous roles include positions at McKinsey & Company, JohnsonDiversey, Unilever, and the Netherlands Board of Tourism, where she developed and brought expertise in strategic communications and (change) leadership development.

Global

Jelena Aparac

Jelena Aparac is our Head of Advocacy Policy and Research. She is an expert in the field of international peace and security and human rights who witnessed the suffering of the former Yugoslavia war and has engaged in promoting peaceful resolution of conflicts and intercultural dialogue. Jelena was mandate by the UN Human Rights Council as an Independent Expert with the UN Working Group on the use of Mercenaries and its Chair-Rapporteur. As a leading expert on Business and Human Rights in Armed Conflicts, she acts as an expert on issues of corporate liability in armed conflicts in the intergovernmental negotiations on legal instruments. In 2022, Jelena was selected as a member of the UN Senior Women Talent Pipeline promoting women in UN senior leadership positions.

She is also the author of the book "Business et droits de l'homme dans les conflits armés" and other publications and gives lectures and conferences at leading academic institutions around the world. As a member of the International Expert Group on International Criminal Law and Climate Change (hosted by the UCLA) Jelena has contributed to drafting the crime of ecocide together with the leading experts on criminal law.

LAW's UK, Dutch Board and Swiss Committee

Helen Alderson

is an experienced humanitarian and public health leader with over 30 years of experience. She has held leadership positions with ICRC globally, specializing in areas such as humanitarian diplomacy, financing, protection, and partnerships. She has worked in Africa, Asia, Europe and the Middle East. She has also served as CEO of the World Heart Federation and as a senior ESG analyst for the Ethos Investment Foundation for Sustainable Development. She is currently on the Board of the Humanitarian Finance Forum.

LAW's UK, Dutch Board and Swiss Committee

Ruth McCoy

has more than two decades of experience in the United Nations, government, public policy organizations, and non-profit sector. As Chief of Staff and Executive Director of the Kofi Annan Foundation, she provided political support to Kofi Annan in his mediation roles in Kenya and Syria and established several initiatives promoting electoral integrity and peace processes. Her extensive experience has given her a broad perspective on international relations and the development sector.

South Asia

Andrius Kudaba

Andrius Kudaba is LAW's Myanmar Programme Manager. Andrius brings more than six years of experience working on human rights, humanitarian response, and conflict priorities in Myanmar. Prior to joining LAW Andrius occupied multiple roles ranging from Country Director to Human Rights Researcher. His focus has been working in supporting national civil society actors in operating in constrained environments focusing on the priorities cross-border humanitarian response, HRD protection, human rights documentation, and inclusion in emerging resistance governance structures. Andrius holds a MSc in Political Science from the University of Amsterdam specializing in governance and ODA.

Global

Nick Leddy

Nick Leddy is LAW's Head of Litigation, joining LAW in August 2022. Nick is an experienced litigator in both domestic and international courts. Prior to joining LAW, Nick was a Trial Lawyer for the Office of the Prosecutor of the International Criminal Court, where he investigated and prosecuted war crimes and crimes against humanity in Sub-Saharan Africa, Europe, and Southeast Asia. He worked across all stages of proceedings, including preliminary examinations, investigations, and trials. Previously, Nick served as a prosecutor in New York City at the Manhattan District Attorney's Office. In that capacity, Nick investigated and prosecuted hundreds of cases, including corruption, police violence, and sexual and gender-based violence. He also served for ten years as a member of the Editorial Committee of the Journal of International Criminal Justice (Oxford UP). Nick is passionate about Diversity, Equity, and Inclusion. He was a member of the Diversity Committee of the Manhattan District Attorney's Office, and later co-founded the ICC's first LGBTIQ+ staff network, the ICC-Q. Nick also served on both the Racial Diversity and LGBTIQ+ Committees of the Interagency Diversity and Inclusion Network in The Hague. Nick is a member of the New York Bar.

South Asia

Ishita Kumar

Ishita Kumar is LAW's acting Bangladesh Programme Manager, is an India-qualified lawyer, holding LL.M. in Human Rights, Conflict and Justice from SOAS, London. Her experience lies mainly in the field of international refugee law and localizing international human rights norms for the forcibly displaced in the South Asian context. She was formerly based at Migration & Asylum Project, a refugee law centre based in New Delhi. She provided legal aid to asylum-seekers mainly from Afghanistan, Burma, DRC and specialized in working along with survivors of torture and SGBV. She implemented projects aimed at realizing refugees' socio-economic rights and their access to justice, along with being involved in the strategic litigation efforts for rights of the Rohingya refugees in India.

Africa

Camille Delbourgo

Camille Delbourgo is LAW's acting South Sudan Programme Manager. Camille has experience practicing law as an national lawyer in France and in international criminal law and universal jurisdiction with the Office of the Co-Prosecutor of the ECCC in Cambodia and the Swiss association Civitas Maxima. She then went on to work a Legal Advisor with the IFRC in Central African Republic, and as a Special Assistant with MONUSCO in the Kasai Region and in North Kivu in the Democratic Republic of Congo. Most recently, Camille was a Human Rights Officer at the Working Group on Arbitrary Detention in the OHCHR in Geneva, focusing on Europe, Africa and the MENA regions.

Global

Kate Norton

Kate Norton is LAW's Operations Director. She obtained her LLB with French from the University of Birmingham. She started her career practising as a solicitor in the UK for 7 years, specialising in property law, before taking a Masters in 2004 and switching to the humanitarian field. Before joining LAW, Kate has extensive experience working as a country director for NRC and DRC, as well as PROCAP for UNHCR in conflict settings across the world and has worked in Lebanon, South Sudan, CAR, Syria, Iraq, Sri Lanka, Ethiopia and Burundi amongst other countries.

LAW's Advisory Council - Former advisors

Michael Mansfield QC

is a high-profile barrister with extensive experience in human rights and criminal law. Over an illustrious career, he has represented many accused of high profile IRA bombings, the families of the Bloody Sunday victims and more recently, the families of the victims of the Hillsborough Disaster.

LAW's Advisory Council

Peter Haynes QC

is a British barrister with more than 30 years' experience in both domestic and international criminal courts. He currently acts as the Lead Counsel for Jean Pierre Bemba at the International Criminal Court and is the Lead Legal Representative of Victims at the Special Tribunal for Lebanon.

LAW's Advisory Council

Serena Gates

is a UK-qualified barrister and an expert in addressing sexual and gender-based violence. Between 2016 and 2018, Serena worked for the United Nations Syrian Commission of Inquiry. Her work on behalf of LAW has included training senior prosecutors in Sri Lanka in the prosecution of sexual violence under domestic and international criminal law.

LAW's Advisory Council - Former advisors

Professor Guy Goodwin Gill

teaches human rights and public international law at Oxford University. He is acclaimed for his writings on migration and asylum issues, having served as a Legal Adviser in the Office of United Nations High Commissioner for Refugees (UNHCR) from 1976-1988.

LAW's Advisory Council

Professor John Dugard

has been a member of the International Law Commission since 1997, and served as the Special Rapporteur to the Human Rights Council on the human rights situation in the occupied Palestinian territories from 2001- 2008. He teaches law at the University of Leiden and the Centre for Human Rights at the University of Pretoria in South Africa.

LAW's UK, Dutch Board and Swiss Committee

Dennis McNamara

is Senior Advisor to the Executive Director at LAW. Dennis has more than three decades of international humanitarian experience during which he held several senior positions across the United Nations before becoming Center for Humanitarian Dialogue (HD), Senior Humanitarian Adviser in 2007. Dennis has an Honours degree in law from Auckland University and practiced as a lawyer in the UK and Kenya before joining the UN.

LAW's UK, Dutch Board and Swiss Committee

Daniel Machover

heads the civil department of leading human rights firm, Hickman & Rose. He is particularly renowned for his work on actions against the police and his longstanding expertise in Universal Jurisdiction.

LAW's UK, Dutch Board and Swiss Committee

Yusuf Abdi Hassan

is a member of the Kenyan Parliament for the Kamukunji constituency. He is a former director of IRIN, and has previously held senior posts in the United Nations.

LAW's UK, Dutch Board and Swiss Committee

Ingrid Gubbay

is an experienced disputes lawyer at Hausfeld in London. She has a formidable track record in representing communities affected by human rights violations committed by major corporates across various industry sectors.

LAW's UK, Dutch Board and Swiss Committee

Sir Geoffrey Bindman QC

is an eminent London solicitor with many decades experience working on human rights actions. He is the founder of human rights firm, Bindmans LLP, and represented Amnesty International in the Pinochet cases in the late 1990s.

LAW's UK, Dutch Board and Swiss Committee

Shamsul Bari

currently chairs Research Initiatives Bangladesh and previously had a distinguished UN career. Highlights include his role as UNHCR Regional Director for Central Asia, South West Asia, North Africa, and the Middle East.

Middle East

Fatima Shehadeh

Fatima Shehadeh is LAW's Lebanon Programme Manager. She is a lawyer, holding a Bachelor's degree in Law from Damascus University. Her experience includes creating innovative legal strategies to increasing access to justice for survivors of sexual and gender-based violence, stateless people, LGBTQI people, and other groups who have faced human rights violations and abuses. Fatima has an established experience in humanitarian aid for over ten years focusing on advancing protection and livelihood services for refugee and host communities in Lebanon.

Africa

Kirsty Hare

Kirsty Hare is LAW's Programme Manager working in Africa. Kirsty studied Modern Middle Eastern History before converting to law and completing a LL.M in Public International Law in 2018, where she specialised in international humanitarian and human rights law. Her thematic focus was the use of detention in armed conflict and accountability of security forces. Before moving to LAW, Kirsty worked in legal aid, mental capacity law in London.

Global

Farha Waheed

Farha Waheed is LAW's Head of Human Resources and Compliance, joining LAW in January 2020. Prior to LAW, Farha worked as HR & Operations Business Partner with ActionAid International, Refugee Action and at the British Transport Police delivering a responsive and customer focused HR service, employee cycle, staff development and embedding values and best practices. As a Chartered MCIPD professional she has considerable HR operational and strategic experience of over 16 years to support the smooth functioning and growth of LAW.

Global

Isabelle Saussereau

Isabelle Saussereau is LAW's Head of Finance, joining LAW in July 2021. Prior to LAW, Isabelle worked as Director of Finance & HR with ICVA and Médecins Sans Frontières (MSF) International. Isabelle also worked with ICRC and spent several years working in Africa with MSF as Finance & HR Country Coordinator, in emergency and post emergency contexts. Isabelle obtained a Master Degree in Management and Business Administration.