Back to all articles
LAW's latest Brief on Renewal of the Policy on Children to Office of the Prosecutor of the International Criminal Court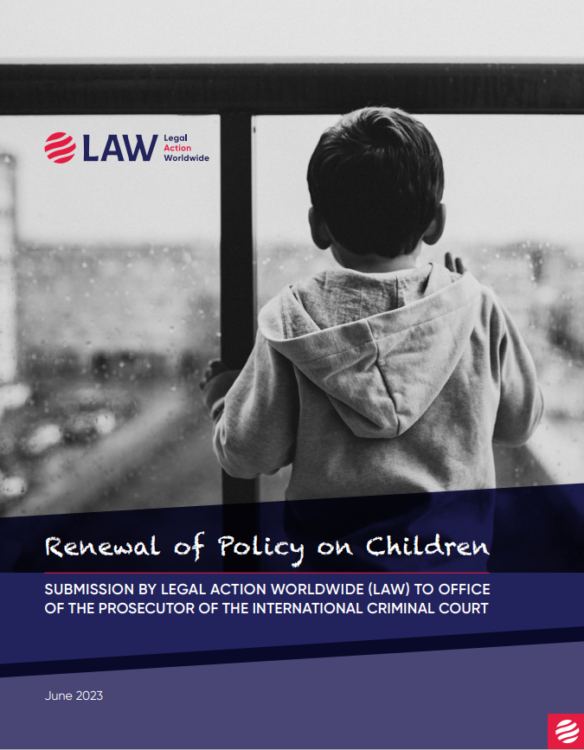 Download full report here
Legal Action Worldwide (LAW) works closely with victims and survivors of all forms of international crimes and supports them in their search for justice. LAW recently submitted a Brief on Renewal of the Policy on Children to Office of the Prosecutor of the International Criminal Court. Based on LAW's experience working with victims and survivors we believe:
There is a need to improve children's participation in proceedings and to integrate children's views in the development of policies, programmes, and measures while ensuring the best interests of the child.
Crimes against and affecting children should be comprehensively addressed. In addition to the use and recruitment of child soldiers and sexual violence, crimes such as forced marriage, attacks on girls' schools, enslavement and forced labor of children should be investigated and prosecuted.
An intersectional and trauma-informed approach should be adopted that moves past the Western model of child protection. The OTP should engage gender-competent and culturally relevant referral pathways for psychosocial support for all children it engages with during investigations and trial. These pathways must include competency to provide services to children of diverse sexual orientations and gender identities.
The Policy on Children should be expanded to reflect greater inclusivity and gender competence to recognize the needs of all genders, including transgender and gender-nonconforming children across the OTP's mandate.
A transformative approach to reparations should be taken, particularly regarding the child's right to reintegrate into the community by overcoming structures of inequality and discrimination.
See full brief HERE