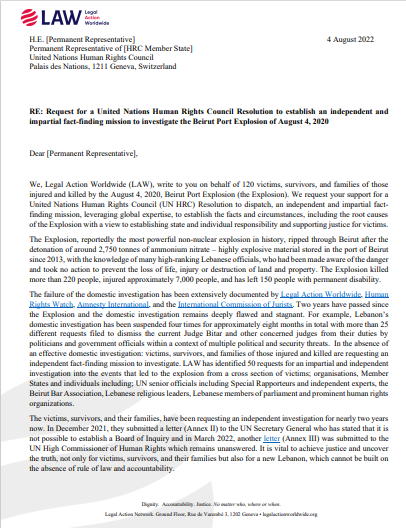 Download PDF
On 4 August 2020, Legal Action Worldwide (LAW) sent 47 letters, one to each of the UN Human Rights Council member states on behalf of 120 victims, survivors, and the families of those injured and killed. This coincided with the occasion of the Explosion's two-year commemoration. The letter requests support for the United Nations Human Rights Council to exercise its mandated authority and power to:
Issue a statement of support for the victims, survivors, and families of those killed and injured in the Explosion and their request for the truth and an independent investigation.
Table a resolution at the 51st Human Rights Council session which calls for the establishment of an independent, impartial fact-finding mission to:
Investigate the alleged violations and abuses of international human rights law in the context of the 4 August Beirut explosion, whether before, during or after the explosion;
Establish the facts and circumstances of the alleged violations and abuses;
Identify responsibility for such violations and abuses, including those most responsible;
Make recommendations, in particular on identifying legal responsibility for human rights violations and abuses, with a view to protecting civilians against further violations and abuses; and
Present an oral update thereon to the Council at its 52nd session and a final, written report at its 53rd session.