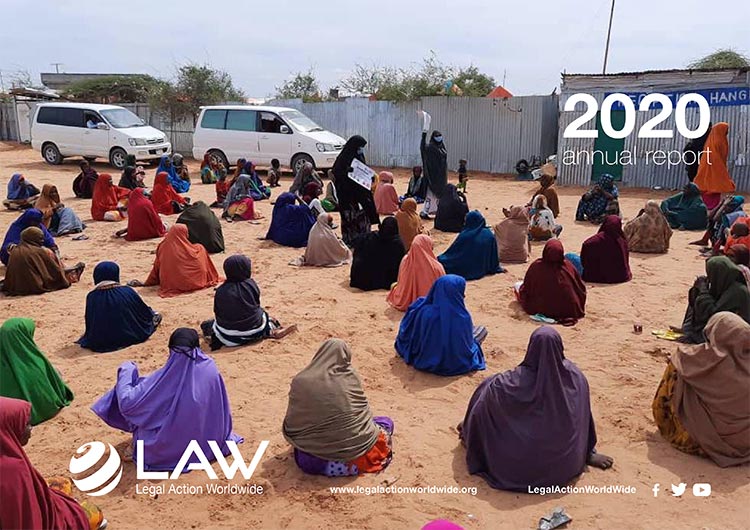 Read full report
In 2020, across the globe, people suffered from curfews and restrictions, however it is important to remember that people were not affected uniformly. Lockdowns served as a catalyst for human rights violations and abuses, in particular, increases in domestic violence and other forms of gender based violence. Simultaneously, lockdowns restricted legal aid providers access to victims and survivors. LAW's programmes worked tirelessly to circumvent these issues, and while it was undoubtedly a challenging year, there were many successes that brought the victims and survivors that we work with, closer to justice.
Some highlights include the filing of a ground-breaking criminal case in Lebanon, on behalf of a Migrant Domestic Worker, and the submission of a general allegation and communication to the UN Working Group on Enforced or Involuntary Disappearances on behalf of 18 Syrian families. The Bangladesh team filed a first of its kind case with the Myanmar National Human Rights Commission on behalf of the widow of one of the victims of the notorious Inn Din Massacre.
In Sri Lanka, LAW established the first Gender Justice Legal Network in the country. The South Sudan programme refiled a case with the Committee for the Elimination of Discrimination Against Women on behalf of 30 South Sudanese women and girl survivors of conflict related sexual violence, together with a request to the Committee for the protection of the survivors' identity. In Somalia, the team sustained advocacy efforts for the adoption of the Sexual Offences Bill, highlighting the shocking regression threatened by the Sexual Intercourse Bill which was tabled this year.
I am so proud of the LAW team, and the innovative and varied ways that they have supported beneficiaries in their pursuit of justice. Looking forward to 2021, we hope to expand our operations into Iraq and Jordan, and will continue to find creative ways to deliver justice to those who need it.
I want to thank everyone that has contributed to our work in 2020; LAW staff and Board, our advisory committee, partners and donors, without whom none of our work would be possible.
Antonia Mulvey, Founder and Executive Director of Legal Action Worldwide