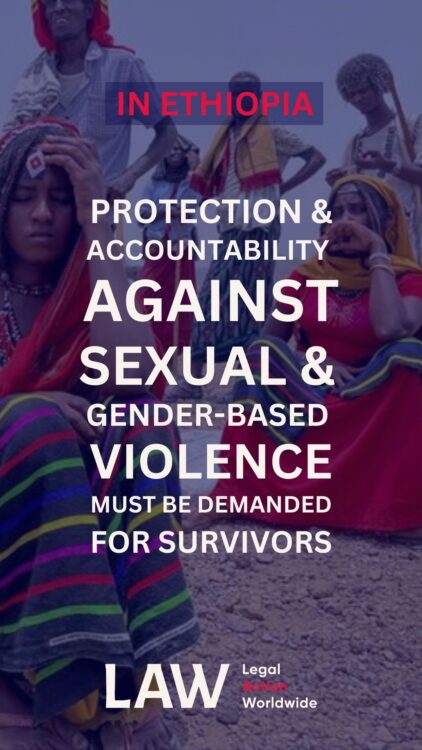 Download PDF
19 June 2023,  Nairobi, Kenya: Since the outbreak of the conflict in Tigray in November 2020 survivors have endured horrifying acts of rape, sexual slavery, among others which has resulted in severe physical and emotional trauma.
These crimes have been systematically employed as a weapon, targeting individuals and communities based on their ethnicity, further fuelling intercommunal tensions and exacerbating the cycle of violence. It is estimated that thousands of women, girls, men, and boys have fallen victim to sexual violence in the context of the armed conflict and have experienced multiple forms of sexual violence, including gang rape and sexual torture.
This abhorrent form of violence has caused immeasurable harm to individuals and communities, inflicting lasting physical, psychological, and social devastation on victims and survivors.
Their suffering is compounded by the immense challenges they face in accessing essential services, such as medical care, psychosocial support, and legal services. Furthermore, these numbers are likely underreported due to the challenges of access to health facilities, stigma, and fear of reprisal faced by survivors.
The Ethiopian government must take immediate action to address the crisis of conflict-related sexual violence in Ethiopia and to ensure safe and adequate access for victims to essential services. It is imperative that the international community acknowledges the gravity of this crisis and takes decisive action to address it.
Recommendations for the Ethiopian government and the international community:
Prevention Strategies: Prevention is paramount. Investment in comprehensive prevention strategies that challenge gender norms, promote gender equality is necessary. Engaging men and boys as allies in this endeavour is vital for sustainable change.
Ensure Safe Access: Safeguarding the safe and unhindered access of humanitarian actors, including medical and aid workers, to conflict-affected areas is imperative.
Urgent Humanitarian Assistance: the immediate provision of comprehensive humanitarian aid to address the urgent needs of survivors of conflict-related sexual violence in Tigray must be prioritized.
Documentation and Reporting: Comprehensive survivor centered documentation and reporting of incidents of conflict-related sexual violence are crucial for accountability, advocacy, and evidence-based decision-making.
The international community should support initiatives that protect the identities and confidentiality of survivors, while gathering accurate and reliable data to inform policy and response measures.
Human Rights Council should ensure the oversight of documentation of human rights abuses in Tigray by extending the mandate of the International Commission of Human Rights Experts on Ethiopia (ICHREE).
Accountability and Justice: Perpetrators of conflict-related sexual violence must be held accountable for their crimes. These processes must be survivor-centred, prioritizing the safety, privacy, and dignity of survivors.
LAW stands in solidarity with the survivors of conflict-related sexual violence in Tigray. We call upon the Ethiopian government in collaboration with international community to act swiftly, comprehensively, and with unwavering determination to address this crisis.