On 18 June 2020, LAW cohosted the webinar "Gendered crimes and protection of children in Syria" as part of the EU's Brussels IV Conference, alongside the EU delegation to the UN in Geneva, The Permanent mission of United Kingdom to the UN in Geneva, and the Permanent Representative of the Kingdom of the Netherlands to the UN in Geneva: Qatar.
The webinar brought international justice actors and Syrian civil society representatives together to respond to the findings in "They have erased the dreams of my children", a landmark report by the International Independent Commission of Inquiry on children's rights in the Syrian Arab Republic. The webinar was attended by over 120 actors working on the Syria crisis, comprising representatives from the international donor community and the humanitarian sector. Panelists included Hanny Megally, member of the Independent International Commission of Inquiry on the Syrian Arab Republic, Michelle Jarvis, the Deputy Head of the International Independent and Impartial Mechanism for Syria, and Maimounna Al-Alammar, child protection specialist for Hurras Network.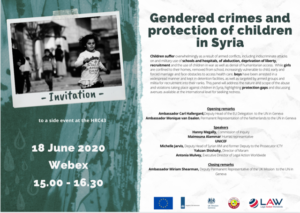 LAW's Executive Director, Antonia Mulvey, briefed the conference on a survivor-centred approach to accountability for the following violations against children including civil registration and access to legal documentation, sexual violence against girls and boys, including sexualised torture and child and forced marriage.
"If anyone is not familiar with the work of LAW they should familiarise themselves, because they are doing fantastic work in many countries throughout the world … They have a lot to say on Syria."
Carl Hallergard, Deputy Head of the EU Delegation to the UN in Geneva